Lawyers are a vital part of any community. They serve as trusted advisors, helping their clients navigate the complexities of the law and providing them with legal representation in times of need. But while a lawyer's job is often demanding, it can also be gratifying when they see the results they've helped achieve for their clients.
An excellent way our attorneys and staff maintain a healthy balance between work and life is by participating in community initiatives outside of the office. There are many ways we do this: volunteering at a charity or social services organization, serving on boards or committees, running for elected office, or even joining local civic organizations.
Vogel Law Firm is proud to be involved in the many communities we serve. We support numerous local causes and organizations that we're passionate about.
The 2022 Charities of Choice
In 2022 our firm decided to do something special for the holidays.  instead of sending out 2,800 gifts to our clients, we asked them to select a charitable entity for us to make a generous donation on their behalf. After all the votes were counted, our firm was able to donate to 11 entities across the communities we serve. The entities included animal shelters, food banks, homeless shelters and toys for tots. See below on how we celebrated the season of giving back.
Emergency Food Pantry - $2000
1101 4th Avenue N Fargo, ND 58102
Homeward Animal Shelter - $1000
1201 28th Avenue N Fargo, ND 58102
4 Luv of Dog Rescue - $1000
1523 23rd St S Moorhead, MN 56560
New Life Center - $1000
1902 3rd Avenue N Fargo, ND 58102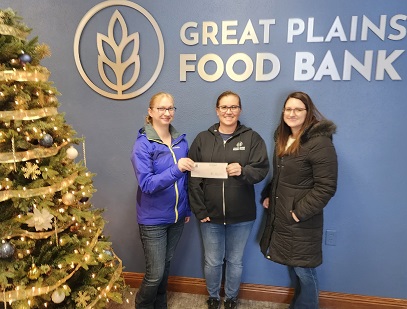 Great Plains Food Bank - $2000
1315 S 20th Street Bismarck, ND 58054
Central Dakota Humane Society - $2000
2104 37th Street Mandan, ND 58554
Missouri Slope Areawide United Way – Homeless Shelter - $1000
515 N 4th Street Bismarck, ND 58501
Toys For Tots | Bismark Mandan - $1000
515 N 4th Street Bismarck, ND 58501
Salvation Army – Food Distribution Center - $2000
1600 University Avenue Grand Forks, ND 58201
Circle of Friends Humane Society - $2000
910 Washington Street Grand Forks, ND 58201
Northlands Rescue Mission - $1000
PROGRAMS AND PARTNERSHIPS:
ALFA International - The Global Legal Network
Bismarck-Mandan Area Chamber of Commerce
Downtown Community Partnership Fargo Moorhead
West Fargo Chamber of Commerce
Grand Forks Chamber of Commerce
Grand Forks Region Economic Development Corporation
Greater North Dakota Chamber of Commerce
Home Builders Association
Lawyers Professional Responsibility Board
Moorhead Business Association
North Dakota Motor Carriers Association
North Dakota Petroleum Council
Missouri Slope Areawide
United Way United Way of Cass-Clay County
Williston Area Chamber of Commerce