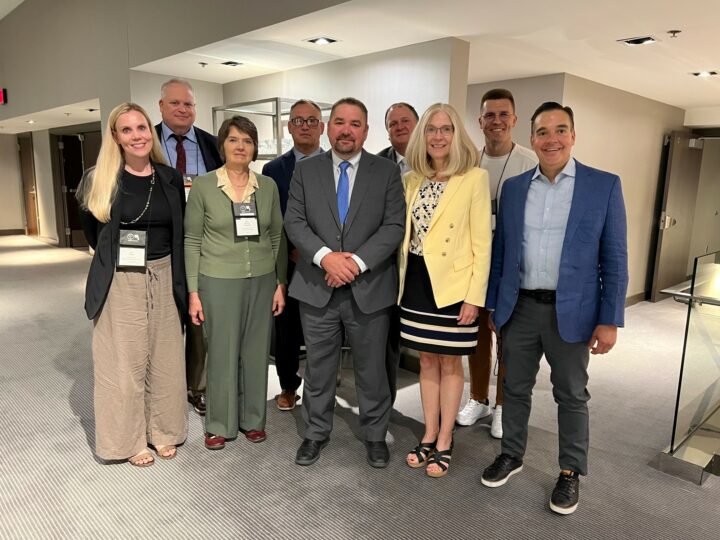 Mark Friese was awarded the Richard S. Arnold Award for Distinguished Service at the Eighth
Circuit Judicial Conference in Bloomington, Minnesota, on July 14, 2023.
The Eighth Circuit Bar Association has presented Richard S. Arnold Awards for Distinguished
Service to 10 deserving individuals, one from each judicial district within the Eighth Circuit, since
2010. The awards are based on nominations provided by the chief judges of each district in the
Eighth Circuit. In selecting award recipients, the Association asks chief district court judges to
consider the extent to which potential recipients have demonstrated the following characteristics of
Judge Arnold:
The person has achieved professional excellence in their field;
The person has been a leader in the legal community, as reflected in
leadership positions held in bar associations and professional organizations;
The person has contributed significant work toward the delivery of volunteer
legal services to underserved members of the community;
The person has been honored by their peers; and
The person has served as a mentor or role model for less-experienced lawyers
or students interested in law.
Mark Friese is a shareholder with Vogel Law Firm in Fargo, ND. He is a litigator, with an emphasis
in criminal defense. Mark received his law degree, with distinction, from the University of North
Dakota School of Law, where he was elected to the Order of the Coif. Following law school, Mark
was a law clerk to the Honorable Dale V. Sandstrom of the North Dakota Supreme Court.
Mark retired from the North Dakota Army National Guard after serving for over 24 years, holding
numerous positions. Before law school, Mark was a Bismarck police officer for over 5 years.
Mark served as an adjunct instructor at North Dakota State University for 12 years, teaching an
undergraduate judicial process course, and for the last 12 years, he has co-instructed a criminal trial
skills course at the University of North Dakota School of Law. Mark has instructed attorneys
throughout the state and law enforcement across the country.
Mark previously served as his firm's associate attorney mentor program coordinator, and he serves
as a law student mentor. Mark is a Fellow of the American College of Trial Lawyers and holds
membership in multiple professional legal associations. Since 2010, Mark has served as the District
of North Dakota Criminal Justice Act Panel Representative.
Article and photos provided by State of North Dakota Courts