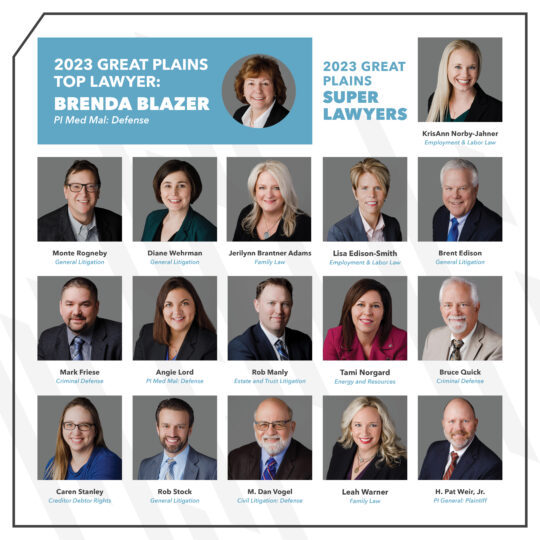 Super Lawyers®, a Thomson Reuter business, is a rating service of outstanding lawyers from more than 70 practice areas who have attained a high degree of peer recognition and professional achievement. The patented annual selection process includes independent research, peer nominations and peer evaluations. The Great Plains Super Lawyers® list is made up of lawyers in Iowa, Nebraska, North Dakota, and South Dakota.
The Rising Star distinction honors leading attorneys who are either 40 years old or younger or in practice for 10 years or less. While up to 5 percent of the lawyers in a state are named to Super Lawyers, no more than 2.5 percent are named to Rising Stars.
Brenda Blazer, Attorney in our Bismarck office was included on the Top 5: 2023 North Dakota Super Lawyers list.
The Super Lawyers Top Lists are subset of the overall Super Lawyers list. Selection follows the same selection process as of the overall Super Lawyers list, which includes multiple stages: peer nominations, independent research evaluations and peer evaluations by practice area. Each stage of the process carries a certain point value. At the end of the process the points are totaled and those with the highest points are recognized on our top lists.
Vogel Law Firm is one of the largest law firms in the tri-state area and our team will always provide the personal attention and customized guidance our clients need and deserve. As the communities we serve continue to grow, we will continue to recruit the best lawyers, law students and staff members to not only assure a promising future for our firm but also create an environment our young professionals enjoy building their careers here.
2023 Great Plains Top Lawyer
Brenda Blazer, PI Med Mal: Defense
2023 Great Plains Super Lawyers
KrisAnn Norby-Jahner, Employment and Labor Law
Monte Rogneby, General Litigation
Diane Wehrman, General Litigation
Jerilynn Brantner Adams, Family Law
Lisa Edison-Smith, Employment and Labor Law
Brent Edison, General Litigation
Mark Friese, Criminal Defense
Angie Lord, PI Med Mal: Defense
Rob Manly, Estate and Trust Litigation
Tami Norgard, Energy and Resources
Bruce Quick, Criminal Defense
Caren Stanley, Creditor Debtor Rights
Rob Stock, General Litigation
M. Dan Vogel, Civil Litigation: Defense
Leah Warner, Family Law
H. Pat Weir, Jr., PI General: Plaintiff
2023 Great Plains Rising Stars
Katie Carpenter, Civil Litigation: Defense
Justin Hagel, Business Litigation
Bennett Johnson, Environmental
R.J. Pathroff, Construction Litigation
Briana Rummel, Professional Liability: Defense
Nick Surma, Civil Litigation: Defense
Seth Thompson, Employment and Labor Law
Luke Heck, Criminal Defense
MacKenzie Hertz, Employment and Labor
Drew Hushka, Civil Litigation: Plaintiff
Patrick Sinner, Bankruptcy: Consumer
Andrew Smith, Real Estate
Bailey Voge, Civil Litigation: Defense
Jordan Weir, Civil Litigation: Defense
A further description of the selection methodology can be found at http://www.superlawyers.com/about/selection_process.html.